Alison Hammond admitted that things started to get a little awkward when she sat down to interview Lady Gaga earlier this week.
Gaga is currently in town to promote her new film House Of Gucci, and while promoting the film, she spoke with the This Morning legend for a new TV interview.
At the start of Friday's concert show, Alison told co-star Dermot O'Leary, "I had the best week. Yesterday, I met … wait for it … Lady Gaga."
This Morning then showed a brief rehearsal of Alison meeting the Oscar-winning star, with the performer initially offering Gaga her elbow when they first met, and the singer declaring, "I'd love to hug you."
"I'd like to hug you too," Alison replied, and Gaga finally decides to go for a full hug.
"Oh my god, I got a hug!" the former Big Brother star then exclaimed. "How are you, darling?" So nice to meet you. You look beautiful. "
Back in the studio, Alison said of the miscommunication: "I was really shocked because obviously we were all tested, and I didn't know she was going to go for a hug! I gave her the elbow!"
"Especially with the Americans, you just think' go with the elbow, '" Dermot said, before pointing out that the interview took place in the same place as Alison's infamous session with Harrison Ford.
"It's interesting that you say that, because that's Harrison Ford's room," Alison told him. "It's the Corinthia Hotel, and that's where all the interviews take place. So yes, it's that same room. "
"So what's the matter?" Do you have any suites there? Do you live there? " Dermot joked.
Alison then explained, "Well, because This Morning is so exclusive, we have our own room, with our own camera, and our own sound.
"We did have a phone call halfway saying 'what time are you checking?' or something. [I said], 'I have Lady Gaga here, if you don't mind, we'll stay here a little longer. See you later. "
She also revealed that she got a taste of "exactly what Lady Gaga would be like," and showed a second clip of herself off-site in full Gaga-esque attire.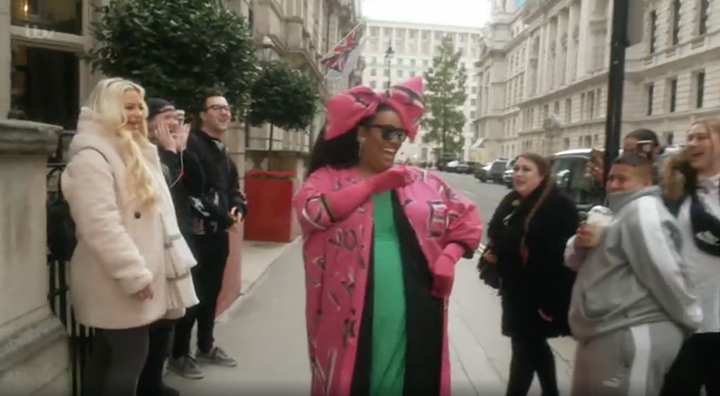 "I went out into the streets and everyone shouted my name!" she said.
"They loved it! Look at me! It was like Lady Haha. And then I almost fell. But yes, it was amazing. "
Alison's full interview with Lady Gaga will be shown this morning next week.
Prior to the release of her new film, Gaga had already given several interviews, and recently told Vogue magazine that she had "suffered psychological difficulties" after trying to stay in character as. Patrizia Reggiani for nine months, both on and off camera.
This morning is broadcast every weekday from 10 a.m. on ITV.
.