Art collective The Bait Fridge and sister musical costume Slowmango let CityMag into their costume-filled Kent Town studio to sit in a laughing chorus session, where all feelings of self were dissolved.
In an interior-oriental art studio, a room full of well-adjusted adults erupts in a mad chorus of laughter. In the middle of the explosion, a high-pitched witch's chase cuts through the cacophony.
About 30 seconds later, two men let out a round of one-syllable, wheezy laughs, sounding like a pair of delirious pirates.
We obediently watch our conductor lower and raise his hand. The choir (which today includes one cautious journalist) adjusts its dynamics, becoming louder or calmer according to the gestures.
As the impromptu exercise rages, the group's individual identities – a mixed bag of theatrical nuts, painters, illustrators, musicians and photographers – are liquidated, becoming a mass of flesh and sounds.
This lasts a few minutes, and after a round shake our guide indicates that it is finished. A loud noise of authentic laughter quickly takes over.
This is the laughing chorus, as performed by Adelaide's most exciting live creative force, The Bait Fridge.
Emmaline Zanelli has been a key member of the multidisciplinary art group since 2016, in addition to her individual career as an artist and photographer.
Wearing a crown made of orange barrier mesh, she recounts CityMag she is "very passionate" about the laughing chorus, which now takes place weekly as part of Bait Fridge's rehearsals.
"I really enjoy The Bait Fridge's migration to something that isn't always improvised," says Emmaline.
"Although there will always be chaos in our performances, I like the idea of ​​finding a plot and trying out small sketches with people, like songs on an album."
The Bait Fridge was formed seven years ago at Blenheim Music and Camping Festival, with six collaborators invited to perform on stage at the regional event.
Abstract painter and founding member of The Bait Fridge Henry Jock Walker dismounts from the beams of the studio, where he hung like a bat, to explain that the festival was fundamental to the band's identity.
"We found this old refrigerator in the neighboring dump and it had' The Lure Fridge 'written on tape. It seemed to have come out somehow. We took it as ours, "Henry says.
At the end of the laughing choral part of the evening, we now all sit around a table covered in discarded cloths, common bowls of fries, and a pile of feathers and pencils.
For an hour CityMag throws questions into the room full of artists and makers. As they respond, we notice a few members of the group drawing. As our interview ends, entire illustrated universes remain after our wake.
Another of the original six members, multidisciplinary artist Kaspar Schmidt Mumm, says the first show began with the gang collecting garbage from the city dump.
"We built a stage out of all the rubbish," Kaspar says. "And even paint catapults."
In 2015, musicians Declan Casley-Smith and Abbey Howlett performed inside a king-size double bunk bed, enclosed in Perspex, while the artists threw paint around them. The musical performance became a full, improvised, artistic trash fire.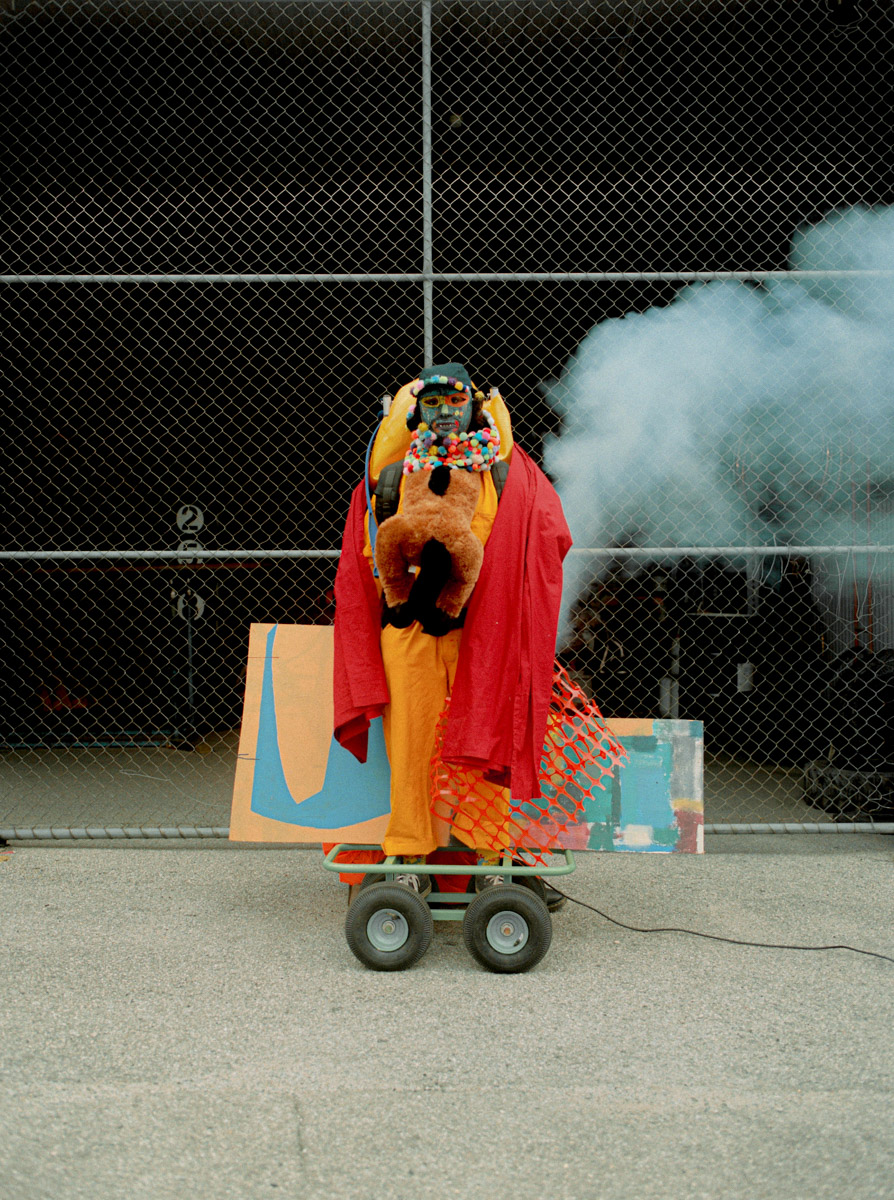 In the six years later, members came and went, with 19 artists and musicians currently part of the Bait Fridge family. The existence of the Bait Fridge was one of eternal mutation.
A recent residency at Light The Lab's concert music venue evoked full theatrical performances by the collective, with intricate costumes, plots and audience engagement.
Everyone in the group agrees that the collective's future trajectory is on international tours, exploring "sexual and intimidating" conceptual territories.
Screen printer, DJ and illustrator Daria Koljanin – who joins us via Zoom – says that performing live with The Bait Fridge for the first time "opened me up and picked me up as a child".
Painter Hari Koutlakis finds a result with The Bait Fridge liberating, "because for an hour to a whole day you have time to just let go of what you're doing and really sink into your subconscious, and just improvise on music or paint."
Slowmango is a sister band of The Bait Fridge and has a self-titled three-track album under their belt. Like its sibling, Slowmango is known for chaos, creating otherworldly musical phrases carried from jams with the The Bait Fridge, such as the track "Blob Funk".
The two groups even have some members in common.
With Mat Morison on keyboards, Aidan "Jazzy" Jones on bass, Zeno Kordov on drums, Nicole Hobson on saxophone, Kaspar on microphone, and his brother Adrian Schmidt Mumm on guitar, the band recently performed at the Dark Mofo art festival in Tasmania. .
"We missed The Bait Fridge a lot. [Dark Mofo] couldn't afford to take 15 people out, "Adrian laughs.
We wonder why members of the collective stayed so long; artists are often characterized as inconsistent types. Emmaline says it's because they all come from their own isolated creative practices.
"I think that's a big focus to use the extra – whether it is a remnant of energy or residual materials – come together and almost unlearn what you are doing, as an institution, doing collaborative work and experimentation, "she says.
This was our experience of sitting in the laughing chorus. We felt what we can only describe as a rejection of an ego to become a ready member of the collective cluster.
Every roaring lung of laughter we released was more rubbish thrown into the flames of a beautiful bucket fire.