Christmas sandwich season is back – and there are plenty of options to try this year. From classic flavors to new inventions, there really is sarcasm for everyone.
But as the team at HuffPost UK knows all too well, not all festive sandwiches are created equal. Pomegranate can be delightful or painfully dry, stuffing can pack a fist or be abysmal trivial. And the bread? There is much to be said for the bread.
To help you make a choice before parting with your hard-earned money, we've completed our annual taste test, trying out some of the sandwiches offered by the nation's largest supermarkets and main street cafes. Enjoy!
M&S Boxing Day Triple (£ 3.80) ⭐️⭐️⭐️⭐️
"The aftermath of Boxing Day is the highlight of a Christmas meal for me, so I'm glad to try this triple tribute. The package contains three satisfactorily contrasting flavors: turkey and stuffing, ham hook and piccalilli, and Wensleydale with carrot and orange chutney. Each sarni is moist, absolutely packed and there is fresh, light bread everywhere.
"The turkey mix is ​​my favorite, with the perfect amount of oxygen and a nice, peppery spice. The ham hook screams "good quality meat" and while the pickle is strong, it's not as overwhelming as others I've tried in the past. I enjoy the Wensleydale and chutney combo, but the orange is pretty sweet, so this one could divide the crowds. Overall, a satisfying lunch for the price. " – Rachel Moss, Life Editor
Waitrose Christmas Smoked Salmon, Egg and Truffle Sandwich (£ 3.80) ⭐️⭐️⭐️⭐️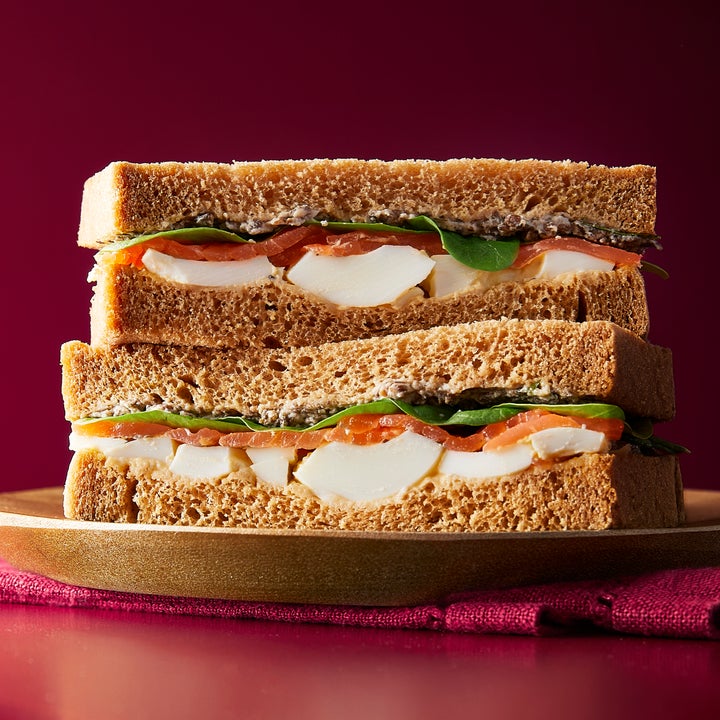 "This new Christmas sandwich looks as attractive as in the photos and it's clear to see what you get with each layer. The generous portion of a thick egg mayonnaise topped with the salted salmon along with the mushroom and truffle sauce, which don't overwhelm, provides a delicious combination of flavor. For others, it might be a little rich.
"The crispy spinach and soft rye bread give it the right texture. For £ 3.80, I'd say this is a fancy sandwich that's not for the daily lunch. More like a lunch treat on a special day." – Melanie Grant, audience editor, HuffPost Shopping
Rudolph of Sainsbury's Christmas Party Sandwich (£ 3) ⭐️⭐️⭐️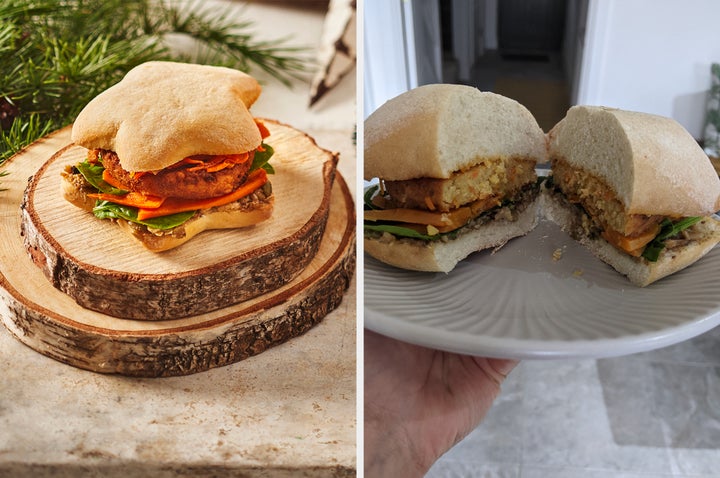 "If Sainsbury's is targeting an Instagram moment, they definitely have it with this sandwich. The bun is shaped like a star and looks almost too pretty to eat. The vegan alternative to a Christmas sandwich is delicious and full of flavor and the addition of sunflower seeds adds nice a pitcher to a general fluffy roll, but for me the tastes are too sweet to taste.
"Although the carrot and pumpkin filling gives me an autumn / winter vibe, it would be great to have more flavors there as a lunch. The ingredients mention sage and onion-vegan mayonnaise, which felt non-existent, and could be the saving grace if there was more to it. " – Nabihah Parkar, reporter on audience engagement
Greggs Pigs Baguette Blankets (£ 3.20) ⭐️⭐️⭐️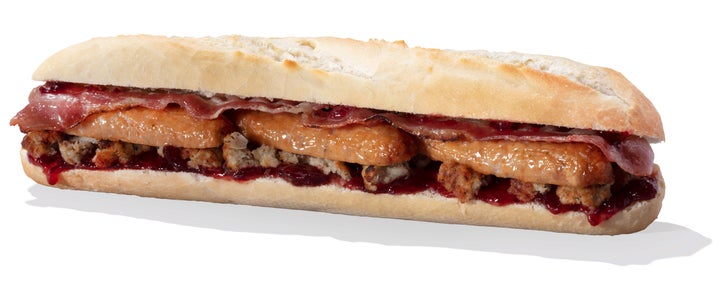 "I'm a big fan of pig-in-blankets in general, so I'm excited to try the Greggs Pigs-Under-Blankets creation. The price is quite reasonable, but the baguette looks similar to any other Greggs baguette, with no festive touch, except for the obligatory pork double of bacon and sausage. Everything is covered in red sauce – at first glance it looks like it might be ketchup, but it's actually oxycodone and port. I'm someone who hates any kind of sauce (weird, I know). But I try and, no, it's a little too overwhelming, so I try to avoid it.
"The baguette also contains onion and sage stuffing, which does add to the Christmas vibes. The bacon and sausage are delicious, but you can't go wrong with them really. Overall, it's moderately nice, but you definitely need to like the crab sauce (and I don't like) to use this properly. " – Habiba Katsha, Live Reporter
Caffe Nero Vegan Festo Festeno Panini £ 4.60 ⭐️⭐️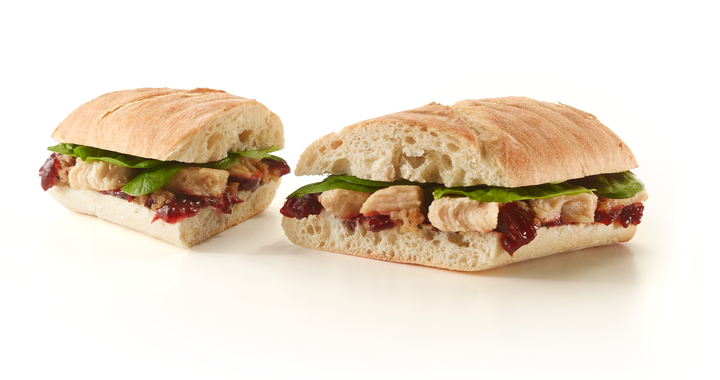 "This sandwich is good – but it's mostly bread. Although I'm sure the fake turkey 'meat' is delicious, I wouldn't know. It seemed to get lost among the whole ciabatta roll and there were very few pieces of it in the whole sandwich. As a strong advocate of almost all plant-based meat substitutes (they have really progressed a lot in recent years), this has indeed felt like a failure.
"I've tried more than a few Caffe Nero sandwiches in my time and the bread has always been consistently soft and looked quite appetizing. But on this occasion it carried all the food. Also the blueberry sauce seemed to be completely absorbed into the roll, while the festive stuffing seemed almost non-existent.
"To top it off, there were about three spinach leaves all over the pan. All in all, quite a few offerings and unless the sandwich is stuffed with more ingredients, I wouldn't say it's worth £ 4.60. " – Kate Nicholson, senior trend reporter
Vegan Christmas Flatbread (£ 5.25) ⭐️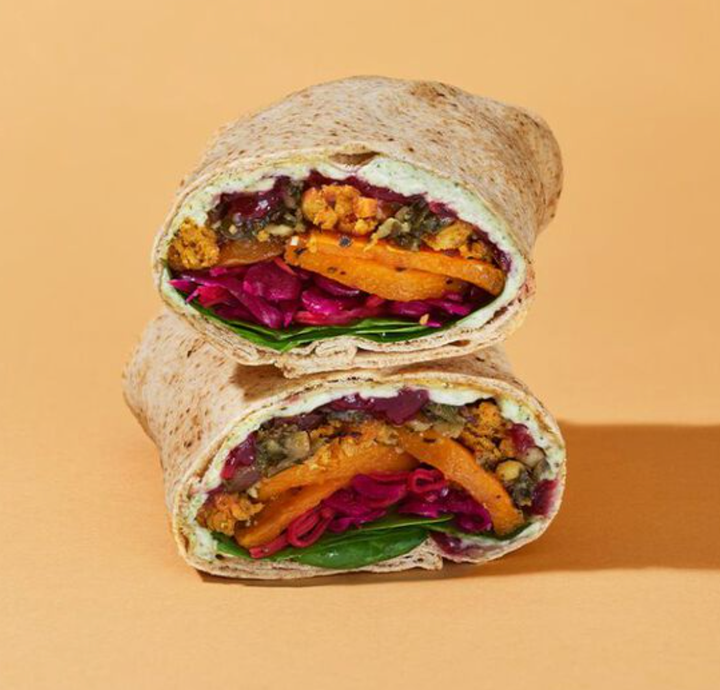 "Pret always delivers some firmly reliable festive lunches – from the Christmas Lunch sandwich for turkey traditionalists to my personal favorite, the Brie, Pistachio and Cranberry baguette. This year, they added Turkey & Trimmings toastie (perhaps for alliterative purposes?) To the menu, as well as a vegan Christmas Flatbread. I try the latter and it certainly looks promising.
"Stuffings, we have the vegan bingo of roasted pumpkin, sweet potato falafel and spinach, jazzed with some pickled cabbage and carrot. It's certainly colorful, but I don't get much of a festive taste. Yes, there is the ubiquitous port of Pret and orange cranberry sauce and some vegan sage mayonnaise. But a "Christmas" plague? Hmm. You'd think the whole sauce would make a delicious mouthfeel, but it actually leaves me cold and a little anxious. Meanwhile, the full-grain flatbread is as flexible and absorbent as cardboard and roughly as appetizing. Not so much "oh, oh, oh" as "no, no, no" of me, especially at this price. " – Nancy Groves, Chief of Life.
.